Our Great Services

AL'S Towing is a locally owned and operated business serving the greater Brattleboro area. We are proud to announce that we have been voted "2017 BEST OF THE BEST VOTED GREATER BRATTLEBORO'S BEST TOWING SERVICE." We have also been voted "BEST OF BRATTLEBORO TOWING 2016". This will be our third time receiving both awards and hope to continue this award winning service to our customers. We look forward to having the privilege of earning this title for many years to come.






When it comes to challenging terrain, Vermont is close to the top of the list. With its many hills, many abrupt corners, harsh weather conditions and unmaintained roads. The crew at AL'S Towing has seen and serviced it all. We offer many services including; lockouts, jump start, install spare, inflate tire, local and long distance towing, and recoveries. We have done many different types of recoveries from simple off the road to more complex extractions such as recovering a van hanging off a bridge.




All AL'S Towing drivers are certified in many fields; ranging from Audi roadside assistance to ASE master technician. With many calls from stranded motorists who don't have a precise location, our tow drivers are very efficient at locating and have knowledge of the area.




We at AL'S Towing understand that being stranded with your vehicle can be very frustrating. We hope that we can make your situation as stress free as possible. Call 802-258-9933 so we can help you get back on the road.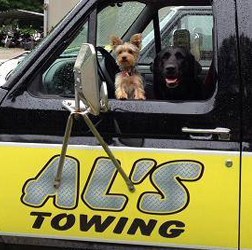 At AL's Towing, LLC, we offer a wide variety of towing and roadside assistance services. Whether your problem is large or small, we are ready and waiting to help you out 24 hours a day.

Here are some of the services we provide:
Local towing

Lockout assistance

Flat tire repair


Roadside fuel refills

24-hour emergency assistance
Battery Service and replacement


Specialized Motorcycle Towing


Long Distance Towing

And much more!

Call Us for Help
Chance are, if you have a problem while on the road, we can help. Just give us a call and we will be more than happy to come help you out of any difficult or dangerous roadside problem you face.